Little M is already 3 weeks old. It is amazing how much she has changed since we brought her home from the hospital. She has really become alert and interested in scoping out this new world of hers over the past couple of days so it seemed like a good time to introduce her to her first mobile.
This one is a simple, homemade, black and white mobile inspired by the Munari Mobile (the first in the Montessori Visual Mobile Series). Here is a picture of a real Munari Mobile. As you can see, mine is and extremely simplified version, but it was free, easy to put together, and (in my opinion) serves the same purpose.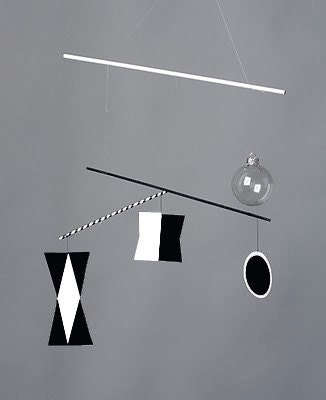 M has really enjoyed this mobile so far. She is not the biggest fan of laying on the floor (she prefers to be nestled in someones arms), but if you catch her in the right mood she will happily lay and observe this mobile for quite some time.