E is 26 months, C is 22 months, B is 4 years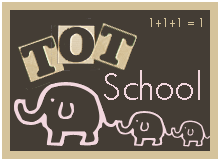 Tot school this week was all about dogs! The kids love dogs so as I imagined this theme was again very well received!
Arts and Crafts
We didn't do much art this week, which is unusual for us, but the tots did have fun with this simple project! I mixed up some paint ( it was supposed to be brown but ended up blood red ) and turned the kids loose with some puppy themed stamps. This was very much a process oriented activity. Very little actual stamping was done, but they had fun getting messy and experimenting with different techniques!
Gross Motor
It's still a little chilly here to spend much time outside but there is something about this time of year that makes us all want to get up and move. I've had a lot of fun planning activities to keep these kid's energy constructive and under control! This activity is simple and self explanatory but the kids certainly enjoyed it
. Sneaking in some number recognition work was as an added bonus!
Pretend Play
Obedience School
We did lots of pretend play this week. I sadly don't have any pictures, but on Monday I made the kids puppy ears to wear and they had fun pretending to be dogs playing "Obedience School".
Dogs
I don't really know what to call this activity, but the kids had fun taking care of their super cute balloon puppies. They walked and ran them all around the house, pretended to feed them, and had all sorts of fun. Their favorite thing was to put the puppies in funny places like on the window sill or on the table and scold the puppy for being naughty. lol.
In the Kitchen
I didn't get any pictures of this activity either, but the kids had so much fun making homemade dog biscuits for our dogs. This recipe was super easy and very toddler friendly. I highly recommend trying it!
Ingredients:
2 c. whole wheat flour
1 c. rolled oats
1/2 c. peanut butter (smooth or chunky)
1 1/4 c. hot (not boiling) water
Other Needs:
rolling pin
cookie cutter(s)
2 standard size baking sheets
large bowl
How To Make The Easiest Dog Cookies Around:
In large bowl, mix whole wheat flour and rolled oats until combined.
Place 1/2 c. of peanut butter in bowl.
Pour hot water over mixture, and combine with spoon until cool enough to mix with hands.
Knead dough in bowl with hands until ingredients are combined and you are able to make large ball of dough. Add extra flour, if needed, until dough is not sticky.
Separate the dough in two.
Roll out dough on floured surface to about 1/4 inch thickness and cut out cookies; place on baking sheets.
Place baking sheets in oven heated to 350 F and bake for 40 minutes.
After cookies are baked, leave in oven overnight (or at least 8-10 hours) to dry and harden.
They all helped measuring and pouring the ingredients in the bowl then took turns stirring it up. They spent nearly an hour playing with the dough before we actually made the biscuits. Lots of fun!
See how other tots are playing at
1+1+1=1